Hi there,

We hope had a wonderful bank holiday weekend!

We're getting in touch with you to report stark findings and vital next steps resulting from the Pay and Conditions Survey that FMC and Theatre Forum have conducted as part of our joint effort to campaign for better conditions for artists and workers in the music and performing arts. Read on to find out more.

And as always, scroll through to the end for list of other opportunities & vacancies in the music sector.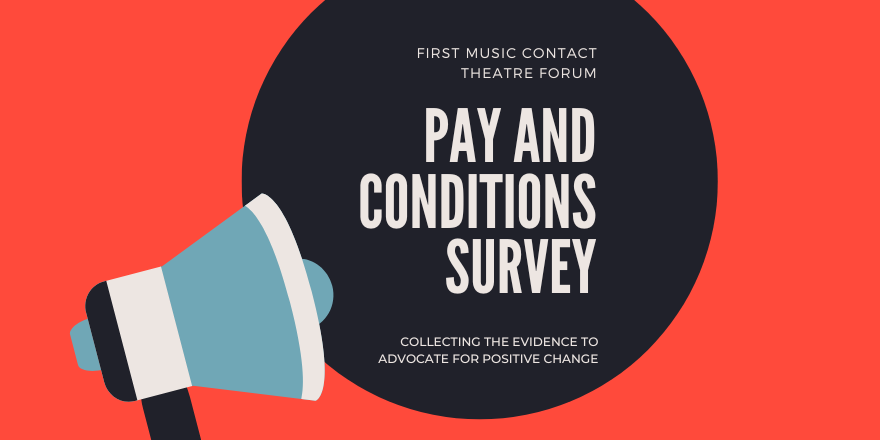 First Music Contact and Theatre Forum are working together to campaign for more sustainable careers for people working in the music industry and performing arts sector. In order to do this, we needed facts to support our case.

In February this year, we jointly put out a survey to research pay and conditions in the music industry and performing arts sector. Hundreds of you used your voices to provide us with an insight into your experiences so that we could inform our next steps. We would like to extend a huge thank you to everyone who took the time to respond to this important survey. We know just how busy and over-extended you often are with your work, so we really appreciate you joining us in these efforts to improve everyone's working conditions.

We have compiled the findings from this survey into a full report. This report gives an extensive, birdseye view of the very difficult conditions facing people working in the music industry and performing arts sector. 

On review of the survey, which was undertaken by arts consultant Heather Maitland, Angela Dorgan (CEO, FMC) and Anna Walsh (Director, Theatre Forum) made the following joint statement:

"The results of the national Pay and Conditions Survey of the Music and Performing Arts Industries are extremely alarming. It is incredibly worrying that artists and workers in our sector are seeing decreased earnings while the majority of other industries are experiencing positive uplift. This cannot sustain. 

What is crucial right now is increased financial support for local and national arts and cultural resource organisations, and those who make work with artists, who rely on Government investment to continue to produce arts by all, for all.

We speak of promoting the concept of a sustainable career in the arts and music, but we are careening towards a tipping point where this working life is becoming untenable. Already many have left the sector as they cannot afford to work in it and can no longer cope with the stress of precarious working conditions and the impacts that has on their lives and, for many, their dependents.

If we continue along this path, one which the arts community has trudged for decades, we will arrive in a cultural landscape devoid of diversity, where the artistic expression of the majority is silenced and access to arts is reduced significantly. Government cannot allow this to happen.

One beacon of light on the horizon is the positive impact emerging for those who are part of the Basic Income for the Arts Pilot Scheme, introduced by Minister Martin in late 2022. The Irish scheme, the first of its kind worldwide, has seen much debate and discourse within arts, media, cultural and governmental circles internationally, and ensures a basic income for professional artists and workers to counteract their lower than average and intermittent pay.

Emerging qualitative evidence suggests that the stability of a small but guaranteed income during the working process of making and creating art and music is having a positive impact on health and wellbeing, as well as enabling modest personal investments in health insurance, pensions and savings. These basics have been getting further and further out of reach for those working in arts and music. Basic Income allows people to work in the present, step towards self sustainability and plan for their future and the future of their families."

While these findings are grave, together we can advocate for better. This report will shape and motivate the next steps we take to address these challenges. Support and engagement from across the sector will be essential as we take these important next steps.
These 50 brilliant emerging and new acts from across the island of Ireland will showcase to international music industry professionals and music-lovers alike over two evenings. You can check them out here.

Don't miss your chance to catch your new favourite artist at Ireland Music Week this October 3rd – 6th.
Ireland Music Week is supported by Culture Ireland & The Arts Council

Ireland Music Week partners are Warner Music Ireland, Sony Music Ireland, TikTok, The Record Hub, CD Baby, RAAP and Dublin Vinyl
Follow Ireland Music Week on social media to stay up to date with all of our news